Call for Entry and Competition Software Features
What makes
Smarter Entry

so robust?

Smarter Entry is an economical, fully integrated, web-based competition and call-for-entry management system. It will handle all of your registration, fee processing, submission, and jurying functions so you can focus on running a successful event at home or around the world. Developed in 2003, Smarter Entry continues to offer new enhancements to its clients at no additional cost.
Flexibility - the cornerstone of Smarter Entry's design

Photography, Painting, Video, Sculpture, and other 3D work
Series of single entries, groups of related entries, and portfolios
Multiple languages for the same event: English, Spanish and French
Ideal for more than competitions. Manage submissions to:
Craft Fairs, Art Festivals, Public Projects, Galleries, Portfolio Reviews and more


for Photography

for Sculpture
...for much more!

for Video
Smarter Entry enables you to organize and manage all your events from start to finish without installing any software or relying on Smarter Entry staff. An internet connection is all you need to setup one or multiple events.

Custom event


Fee Structures


Customized


Branding




Unlimited


Events

Customization of your event is simple

Define event title, description, dates, and jurors
Set your optional features for each event
Set your own fee structure for single entries, portfolios, early deadlines, and additional submissions
Brand Smarter Entry with your logo
Host one event or a hundred events simultaneously

Choose from many optional features per event

Multiple promotional codes
Limit events to members
Collect biographies, curriculum vitae and artists' statements
Define categories
Collect dimensions and artist's valuation of their work


Multiple


Promo Codes


Collect

Bios


and

Statements


Limit Event to


Members
Smarter

Registration and Submission
Smarter Entry entrants can easily...
Create their account and manage their images
Upload without special masking requirements or renaming files
Modify or replace submissions and add comments until the deadline
Pay their entry fee with a secure credit card transaction
Purchase additional submissions any time before the deadline
Access context-sensitive help during the process
Smarter Entry respects your jurors' time, so the jurying module is designed to be intuitive, flexible, and efficient. You have the option of using a single juror or multiple jurors and to prejury submissions. Whether jurying individual submissions or portfolios, your jurors are able to:
Access the Jurors' portal with a unique login at any time and from any place there is an internet connection
Choose how they want images to display in their browser: contact sheet, thumbnails, or enlarged to full screen to show more detail
View all relevant image information, including image size, title and artist's notes
Jury work without seeing the artists' name
Use a simplified process of elimination to reach the number of required submissions
Easily select or reject multiple images
Filter the higher quality work through a series of elimination passes
Filter by category
Rank submissions on a weighted scale
Smarter

Activity Reports for Event Managers
Smarter Entry puts all the event information at your fingertips. With real-time activity reports, you can check on the progress of your event and make informed business decisions that lead to a successful outcome. Smarter Entry administrators can: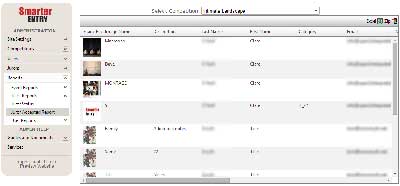 Check the quantity of submissions and review financial and income-related data
Monitor the status of artist registrations
See the progress of individual jurors and the overall jurying process
Select numerous reports with the ability to filter and sort as desired
Collect and export extensive event data to Excel spreadsheets
Smarter

Data and Image Export
With Smarter Entry you own all event data. The program's extensive reporting capabilities allow you to seamlessly export various event data and empower you to:
Analyze juror selections
Publish juried results
Notify selected artists
Build your contact database
Smarter

Technology and Security
Smarter Entry offers a web-based technology solution that is secure, stable and capable of handling heavy traffic volumes, including the sudden surges associated with deadline activity. Our server up-time is greater than 99% and is designed with the following security functions:
All access is protected with a username and password. Administrators, artists and jurors have separate login portals.
Smarter Entry uses SSL (Secure Socket Layer) encryption between browsers and the server, and has an A rating on QualSys.
Smarter Entry processes credit card transactions through TransFirst, an industry leader.
Smarter Entry staff neither sees nor retains any credit card information.
All data is backed up daily.