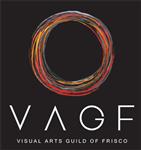 Fresh Start - 2019
| Start Date:

1/3/2019 12:00:00 AM (PT)

| End Date:

1/20/2019 11:59:00 PM (PT)

| Fee: $0.00 USD per

3

| Additional Entries: $2.00 USD per

1

| Host:

Visual Arts Guild of Frisco
VAGF members Fresh Start show will be held from February 5, 2019, through Marchr 3, 2019.
Submission is for VAGF members only. Non-members may participate in the show by paying the $35 membership fee online at vagf.org prior to the submission deadline.
Members are free up to three images. $2 for each additionl image.
Entries will be accepted in the categories of Painting, Drawing, Photography, Mixed Media, and Sculpture. The subject matter is open. All works must be the original concept of the artist and must not have been previously shown in VAGF shows.
If interested, submit up to 5 images of your artworks as JPEG for consideration by sunday, January 20, 2019.
You will be notified of acceptance into the show by sunday, January 27, 2019. Accepted works must be delivered at the Frisco Discovery Center, 8004 N Dallas Parkway, Frisco TX 75034 on Sunday, February 03, 2019 between 11am - 1pm.
All submitted works should be ready-to-hang with wire taut at the upper fourth of the frame. Saw hook hanging will not be accepted. All works on 1/2" - 1" canvases should be framed. All the works on 1 1/2" to 2" canvases need to have neatly painted edges if not framed.
If the sculpture is big and heavy and not designed to be displayed on the floor we encourage the artist to provide a pedestal for display of the artwork. Multi-unit works must be connected so that they can be hung / displayed as a single unit.
This is a juried show. There will be awards for top choices in the various categories.
VAGF retains 30% commission from all sales generated through the show.
---