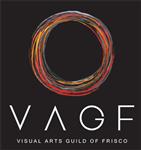 Mayor's Office #4
| Start Date:

7/5/2019 12:00:00 AM (PT)

| End Date:

7/26/2019 11:59:00 PM (PT)

| Fee: $35.00 USD per

10

| Additional Entries: $0.00 USD per

1

| Host:

Visual Arts Guild of Frisco
Call for Artists - Mayor's Office
Call For Artists
ART IN THE MAYOR'S OFFICE
As part of our successful ongoing partnership with the City of Frisco Public Art Program, we're thrilled to offer our VAGF members the opportunity to display their artwork in the Mayor's office!
Accepted categories are: painting, drawing and photography. A new artist will be selected on a quarterly basis. Please note: in order to qualify, artists must be current in their VAGF membership.
All submitted works should be ready-to-hang with wire taut at the upper fourth of the frame. Saw hook hanging will not be accepted. All works on 1/2" - 1" canvases should be framed. All the works on 1 1/2" to 2" canvases need to have neatly painted edges if not framed.
VAGF retains 20% commission from all sales generated through the show.
Acceptance is subject to the approval by the City officials.
---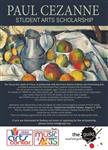 Paul Cezanne Scholarship
| Start Date:

7/21/2019 12:00:00 AM (PT)

| End Date:

8/11/2019 11:59:00 PM (PT)

| Fee: $0.00 USD per

3

| Additional Entries: $0.00 USD per

1

| Host:

Visual Arts Guild of Frisco
The Visual Arts Guild of Frisco, in partnership with the Frisco School of Music and Performing Arts, is thrilled to announce the First Annual Paul Cezanne Student Arts Scholarship. We will award two deserving students, ages 7 and up, a full scholarship to attend Art classes at FSMPA for one entire school year. This includes FSMPA one-year full art class tuition (one weekly class) for the 2019-20 season, all art and class supplies and FSMPA one-year student membership including three art gallery shows with unlimited tickets for family and friends.
Applicants must submit three works of original art which will be judged by a panel of VAGF artists who will select four finalists from all submissions. The four finalists will then interview at the FSMPA campus (Preston Rd and Main St.) where the two winners will be chosen.
This is an amazing opportunity for any child who is interested in art and developing their skills.
Submission Deadlina: Sunday, August 11, 2019
Acceptance for Interview: August 16, 2019
Interviewa: August 21-22-23, 2019
---