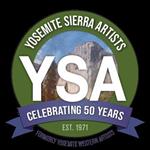 50th Anniversary Open Art Competition and Exhibition
| Start Date:

5/18/2021 12:00:00 AM (PT)

| End Date:

8/7/2021 11:59:00 PM (PT)

| Fee: $30.00 USD per

1

| Additional Entries: $20.00 USD per

1

| Host:

Yosemite Sierra Artists
Yosemite Sierra Artists 50th Anniversary
Open Art Competition and Exhibition
DATES
IN-PERSON PUBLIC EXHIBIT - August 20, 2021 - September 19, 2021
ONLINE EXHIBIT - August 20, 2021 - December 31, 2021
DEADLINE TO ENTER – August 7, 2021, Midnight for both Exhibits
ART INTAKE IN-PERSON PUBLIC EXHIBIT - Monday, August 16, 2021 11am - 4pm
RECEPTION - Saturday, August 21, 2021 5 PM (State and County Pandemic requirements will determine whether this is a live as well as virtual opening.)
IN-PERSON PUBLIC VENUE
Gallery 5 and The Yosemite Gateway Art Center in Gallery Row
40982 CA-41, Oakhurst, CA 93644
ONLINE VENUE
www.YosemiteArts.com
AWARDS
Best of Show Public Exhibit- $100. Best of Show Online Exhibit- $100. First Place in each category - $50 plus ribbon. Ribbons awarded for 2nd, 3rd, and Honorable Mention. Awards will be made at the Opening Reception. Online Cash Awards and digital ribbons will be mailed/emailed after the Opening Reception.
EXHIBIT RULES
1. All media exhibit including but not limited to painting, photography and sculpture. Artwork must be 100% original except prints such as photography, woodcuts, lithographs etc.
2. Entry into the competition and exhibits means the artist will abide by the rules and any exhibition of their work is at their risk.
3. The Public Exhibit is a juried exhibit for artists willing to deliver their artwork to the physical venue. All entries in the exhibits will be placed in the Yosemite Sierra Artists (YSA) Online Exhibit Gallery. Entries that are deemed offensive to any race, creed or gender will not be accepted.
4. Artwork must have been completed within the last three years. Work shown in previous Yosemite Sierra Artists or Yosemite Western Artists competitions will not be accepted.
5. Artwork selected for the Public Venue must be properly identified with a completed entry form attached to it.
6. All hanging work for the Public Venue must be strung with wire for hanging in the upper third of the frame. No saw tooth hangers. Sculpture/3-D entries may include podium or other display case or stand. Fiber works must be hangable. All frames must be in good condition.
7. For the Public Venue including frame the Maximum overall size of the longest side is 34 inches including frame. The Minimum size including frame is 8x10 inches. Any art piece larger or smaller may or may not be selected depending on the Exhibit Committee. No restriction on physical sizes in the Online Exhibit but there is a file size limitation by Smarter Entry. Minimum files size for upload are 1000 pixels on the shortest side.
8. A minimum of seven (7) artists entries in a category required for monetary awards. Categories may be combined for judging purposes at the discretion of the Exhibit Committee. Names of judges will be made public after judging is complete.
9. No work may be removed from the Public Venue during the exhibit without permission of the Exhibit Committee.
SALES
All sales are between the artist and purchaser. Yosemite Sierra Artists is a non-profit organization and does not sell artwork. Docents will make a reasonable attempt to connect prospective buyers with the artist.
LIABILITY AT IN-PERSON PHYSICAL VENUE
All physical entries will be handled with the utmost care but Yosemite Sierra Artists and co-sponsors will not be responsible for any loss or damage to any entry from any cause whatsoever, including transportation, fire, storage, showing, or theft.
ART SUBMISSION
All art to be submitted on SmarterEntry.com/YSA by August 7, 2021 at Midnight.
ENTRY FEES
YSA Members $20 1st entry and $10 each additional piece (You must use unique YSA code that will be provided to each member to receive the discount on Smarter Entry.)
Non-Members: $30 1st entry and $20 each additional piece
(There is a maximum of five (5) entries per artist.)
Non-members may join YSA prior to entering and receive the member discount on entry fees at www.YosemiteSierraArtists.org.
COMPETITION AND EXHIBIT RULES
All rules are posted on SmarterEntry.com and YosemiteSierraArtists.org.
INTAKE of ART for PUBLIC VENUE
If you elect to make your work available for display at the public venue and your work is selected you must drop it off ready to hang along with entry slip.
Please deliver art to The Yosemite Gateway Art Center on Monday, August 16, 11am-4pm (If you are working you may arrange to have a friend or relative deliver it for you.)
If arranging artwork delivery, please attach submission form as well as release of liability form provided upon acceptance.
PICKUP of ART at the END of the IN-PERSON PUBLIC EXHIBIT
Monday, September 20, 2021 and Tuesday, September 21, 2021 from 11am-4 pm at
The Yosemite Gateway Art Center, 40982 CA-41, Oakhurst, CA 93644.
There is no storage at the venue. Neither the Exhibit Committee nor The Yosemite Gateway Art Center Gallery are responsible for work not picked up.
---