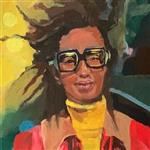 Visions of Self 2022
| Start Date:

12/1/2021 12:00:00 AM (PT)

| End Date:

1/31/2022 11:59:00 PM (PT)

| Fee: $15.00 USD per

1

| Additional Entries: $5.00 USD per

1

| Host:

Yosemite Sierra Artists
"Visions of Self" is the annual juried show of the Women's Voices, Women's Vision group of Yosemite Sierra Artists.
The show is open to all artists who identify as female, with work accepted in all media. No shipping required. The Visions of Self show will be virtual/online.
"Visions of Self" can include self-portraits or work depicting your environment, your emotions, or state of being. Work must be your own, created within the past three years.
Four prizes will be awarded for the show:
Best of Show: $200 + Ribbon
1st Place: $150 + Ribbon
2nd Place: $100 + Ribbon
3rd Place: $50 + Ribbon
Honorable Mention(s): Ribbon
Judges:
Sunny Bak, internationally renowned photographer. Sunny's work has been featured in Time Magazine, Details, Elle, Cosmopolitan, Women's World, and she achieved one of the top-10 covers of Newsweek.
Carolyn Hartling: accomplished artist in a variety of painting mediums. Carolyn was gallery manager of Timberline Gallery for over 15 years and has received many local and regional awards for her pieces, including first place in the annual Yosemite Renaissance show.
Dates:
Call for Entry: December 1, 2021 through January 31, 2022
Show runs online: March 1 through March 31, 2022
Fees:
YSA/YWA Members: $10 first entry, $5 each additional entry
Non-Members: $15 first entry, $5 each additional entry
There is a 5 entry limit per person.
For questions or more information, join our Facebook Group: Women's Voices, Women's Vision
---