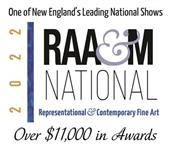 RAA&M National 2022
| Start Date:

7/1/2022 12:00:00 AM (PT)

| End Date:

10/1/2022 11:59:00 PM (PT)

| Fee: $45.00 USD per

1

| Additional Entries: $10.00 USD per

1

| Host:

Rockport Art Association & Museum
On the occasion of its 100th anniversary, The Rockport Art Association & Museum (RAA&M) invites artists from across the country to enter this exhibit celebrating the arts nationally.
Jurors: Ken DeWaard and Linnea Leeming
Artists do not need to be members of RAA&M. Images should be submitted/uploaded by individual artists during the July 1 – October 1, 2022 submission period on the smarterentry.com site.
2022 RAA&M NATIONAL - IMPORTANT DATES
Call for Submissions Begins: Friday, July 1, 2022
Deadline for Online Entries: Saturday, October 1, 2022
Notice of Acceptance by: Saturday, October 15, 2022
Shipment Delivery Deadline: Friday, November 18, 2022
Accepted Artwork Drop-Off: Monday, November 28, 2022 (10AM - 4PM)
Opening Reception: Thursday, December 1, 2022 (6 - 8PM, Ticket Details TBA)
Exhibit Opens: Friday, December 2, 2022
Exhibit Closes: Saturday, December 31, 2022
Artwork Pick-Up: Friday, January 6, 2022 (10AM – 4PM)
SUBMISSION CRITERIA AND CONTENT
Entries must be original. Once artwork is submitted, it may not be withdrawn by the artist. All artwork must remain hanging until the end of the exhibit unless sold.
LOCATION
The Aldro T. Hibbard Gallery and the Maddocks Gallery, the main galleries at the Rockport Art Association & Museum, 12 Main Street Rockport, MA 01966.
ARTWORK FORMAT, PRESENTATION & SIZE REQUIREMENTS
Artwork submissions are limited to 4 artworks per artist in the following media:
drawing, mixed media, collage, photography, painting, digital art and sculpture.
Maximum size is 40 x 60 inches including the frame. All works on paper must be matted, framed and covered with glass or plexiglas.
Frames must be in good condition. Entries must be dry, properly prepared for exhibition and properly wired for hanging. The wire and eye screws must not show when the artwork is hung.
Gallery wrapped canvas does not require framing unless the edges are unfinished.
Maximum weight per hanging piece is 10 pounds.
ENTRIES & FEES
The exhibit will be juried using digital images (jpegs) submitted/uploaded by individual artists during the July 1 – October 1, 2022, submission period onto the smarterentry.com site.
Up to 4 entries: $35 for RAA&M members and $45 for non-members for the first entry, plus $10 for each additional entry. (You may become a Contributing Member for $40, reducing the cost of your first entry by $10.)
To become a Rockport Art Association & Museum member either contact the RAA&M at (978) 546-6604 or pay for contributing membership within smarterentry.com while submitting for this exhibit or go to rockportartassn.org or visit us at 12 Main Street, Rockport, MA 01966.
There is no guarantee of acceptance into the exhibit. Artists may submit up to four pieces. If an artist is accepted into the exhibit, only one of their submissions will be selected.
In case of a Covid-19 outbreak, the RAA&M National 2022 exhibition will become a virtual exhibition. Artists whose work has been accepted will be notified if the show is to be live or virtual at the time of their artwork being accepted into the show.
A sales commission of 40% based on original price will be taken by RAA&M when a work sells during the exhibit. Fees are non-refundable.
FORMAT FOR DIGITAL IMAGES (JPEGS) AND HOW TO SEND THEM
All entries must be submitted in a digital JPEG format, either cropped to remove background or on a black background without a mat or frame.
Photos of the artwork should not be taken through glass or plexiglass. Image quality is critical: poor photography and presentation may affect acceptance by the jurors. Digital images must be representative of the artwork.
RELEASE OF LIABILITY
By entering "RAA&M National" the artist acknowledges that all reasonable care will be taken to safeguard the artwork(s) on the premises and said person accepts that RAA&M and its agents, directors, officers, and volunteers will not be responsible for any damage, injury, liability loss or theft should any occur. Insurance for artwork entered in this exhibit is each individual artist's responsibility.
SHIPPING INFORMATION
If you are shipping artwork that has been juried into the exhibit, it should be shipped to arrive at the Rockport Art Association & Museum no later than Friday, November 18, 2022. All applicants shipping artwork must include a return-shipping label. The RAA&M will store artists' boxes and return-shipping labels to send back artwork at the completion of the exhibition.
Mailing address:
Rockport Art Association & Museum
Attn: M. Burgess
12 Main Street
Rockport, MA 01966
REPRODUCTION OF ARTWORK
Any artwork entered in this exhibit may be reproduced for advertising, marketing, and promotional purposes for "RAA&M National" or future exhibits without consent from or notification to the artist or the artist's agent.
SALES
All artwork should be for sale. Prices cannot be changed from those stated at submission. RAA&M will receive a 40% commission on any and all sales from the exhibit or as a result of the exhibit. The artist will receive 60%. Artists should expect payment within four weeks after the close of the exhibit. All sales are final.
PROMOTION OF THE EXHIBIT
Promotion will be handled by the RAA&M, but we welcome artists promoting the exhibit themselves as well.
EXHIBIT CONTACT EMAIL:
---