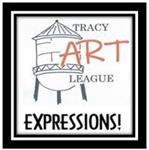 2020 Expressions!
| Start Date:

12/15/2019 12:00:00 AM (PT)

| End Date:

1/24/2020 11:59:00 PM (PT)

| Fee: $15.00 USD per

1

| Additional Entries: $15.00 USD per

1

| Host:

TRACY ART LEAGUE
2020 Expressions! Exhibit
February 14 - February 21 at Tracy Community Center, 950 East Street, Tracy, CA

Eligibility to enter:
· Open to artists over 18 years of age
· Work must be original and completed in the last 24 months
· Work must be conceived and created entirely by the entering artist
· Work shown in previous Tracy Art League exhibits is not eligible
· No work can exceed 50" including frame

Conditions of Entry:
· Limit six entries per category per artist
· Entries must be wired and the wire ends taped for hanging
· $15 per entry/$12 per entry for Tracy Art League members
· Artwork to be hand delivered
· A 15% donation is customary on all sales. Make checks payable to Tracy Art League and see our staff in the Sales Room at Pick-up
File submission can be no greater than 8Mb.
One of the missions of the Tracy Art League is to educate school age children. Because of this, we are not accepting any works depicting whole/partial nudity or extreme violence.

Categories:
1. Sculpture & 3 Dimensional (weight limit 50 lbs)
2. Oil and Acrylic
3. Watercolor
4. Pastel and Drawing
5. Graphics and Mixed Media
6. Glass
7. Photography (photos must be ready to hang - mounted or framed)


Awards:
· Best of Show $450
· Cash awards for 1st ($100), 2nd ($75), 3rd ($50) and honorable mention ($25) in each category

Calendar of Events:
Dec 15 – Jan 24: Online entries accepted at www.SmarterEntry.com/CallsForEntry/TAL
Feb 7 5pm-8pm Receiving of accepted artwork
Feb 8 10am-2pm Receiving of accepted artwork
Feb 14 6:30pm – 8:30pm Artist Reception
Feb 15-16 11am to 5pm Exhibit open
Feb 17-21 4pm to 7pm Exhibit open
Feb 22 10am-noon Pick-up artwork

2020 Juror:
Painter, Art Educator
Lucinda Kasser
Lucinda is a retired Art Professor Emeritus from University of the Pacific in Stockton, CA
Lucinda's website: https://lucindakasser.com/

Jurying results will be determined from photographs uploaded to SmarterEntry.com. Award judging will be from the actual accepted artwork. All artwork will be released at the close of the show except the pieces chosen for the Expressions Selections Exhibit. Work chosen for the Expressions Selections Exhibit will be transported to the Grand Theatre Center for the Arts.

Artist will be responsible for insuring their artwork. Care will be taken during handling and exhibiting of all artwork, however, neither Tracy Art League nor the volunteers can be held responsible for loss or damage to the artwork submitted.
--------------

Online Review of Entries: January 25 through January 30.

Pick-Up of Work at Community Center: Saturday, February 22 from 10am - noon (unless selected for Expressions! Selections)

Expressions! Selections 2020
presented in collaboration with the Tracy Art League - Expressions!

Dates: April 4 - May 16, 2020
GWF Energy & Souza Galleries

Opening Reception: Saturday, April 4th noon - 2pm
ES Artist Panel Discussion: Saturday, April 25th noon - 2pm (tentative)
All of these associated events are free & open to the public.
Grand Theatre Center for Arts will process sales and remit payment directly to artist for Expressions! Selections. 20% commission is retained on all sales processed at the Grand Theatre Center for the Arts.
City of Tracy to issue Purchase Prize Award(s) up to $500 for inclucion into the City Art Collection, paid to the artist(s) in the amount of 80% of retail price.
All works insured at 80% of declared fair market value by the City of Tracy while on display at the Grand Theatre Center for the Arts.
No early withdrawals; all works remain on display for the durantion of the exhibition at the Grand Theatre Center for the Arts.

Return of Work May 18-21.


---