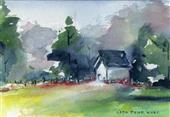 2019 SWA Small Works National Competition
| Start Date:

1/31/2019 12:00:00 AM (PT)

| End Date:

3/15/2019 11:59:00 PM (PT)

| Fee: $25.00 USD per

1

| Additional Entries: $10.00 USD per

1

| Host:

SouthWest Artists, Inc.
We welcome you to the 3rd Annual Small Works National Competition. Please read the prospectus carefully for complete information. However, here are some quick facts:
Entries Close: March 15, 2019
Show Dates: April 30 - June 4, 2019
Entry Fees: 1st entry: $25; following entries - $10 ea.
Maximum size: including frame: 16 inches in any direction.
Deadline to receive in gallery: April 20, 2019
Cash Awards:
Best in Show $750
Arkansas Artist Award $100
$100 in each of the following categories, plus 2 Honorable Mentions: Landscape; Figurative; Animal; Still Life; Abstract.
We welcome your entries. If you have questions you may direct them to our Juried Shows Committee Chairman, Barbara Lewis at barakafs@gmail.com
Good Luck!
---