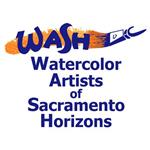 WASH Member Show "Awash with Color 2020"
| Start Date:

12/4/2019 12:00:00 AM (PT)

| End Date:

3/10/2020 11:59:00 PM (PT)

| Fee: $15.00 USD per

1

| Additional Entries: $15.00 USD per

1

| Host:

Watercolor Artists of Sacramento Horizons
Watercolor Artists of Sacramento Horizons invites all WASH members to enter our 42nd annual juried watercolor exhibition, "Awash with Color 2020." This is your chance to shine! Not a member? Join us, show with us! Please see prospectus for full show rules.
AWARDS
Best of Show $200
2 Awards of Excellence $100 each
4 Awards of Merit
Named Awards
8-10 Honorable Mention Awards
Up to $3000 in cash and merchandise prizes from our generous sponsors and donors.
WASH, as the premier watercolor association in the Central Valley, is uniquely situated to attract watermedia artists of all levels from all over the Northern California and Eastern Nevada region. In our permanent home at the Sacramento Fine Arts Center featuring a large studio and three spacious galleries with new lighting systems, work is proudly displayed to its best advantage.
In our forty two years as an organization, we have had many accomplished artists jury our exhibitions. This year the judge for our member show will be Carolyn Lord, a signature member of National Watercolor Society and the California Watercolor Association and a distinguished plein air artist.
All entries are to be brought in person, or by proxy, to Sacramento Fine Arts Center 5330-B Gibbons Dr. Carmichael, CA 95608 on the dates below. If you have trouble entering online, or need to arrange a different drop-off date, please contact AlysLynn Lemke, Show Coordinator at alyslynn@att.net.
RECEIVING DATES
Friday, March 13, 1-5pm and Saturday, March 14, 11am-2pm
SECOND SATURDAY ARTIST RECEPTION
April 11, 5:30 – 8:00 pm, Awards Presentation – 7:00 pm
ENTRY FEES
$15 per entry or $40 for 3 entries (non-refundable)
Limit of 3 entries accepted per member
Two to three paintings per artist will be hung, space permitting
MEMBERSHIP DUES
$60 for SFAC and $25 for WASH per year
Entry fees and dues also accepted at receiving
---