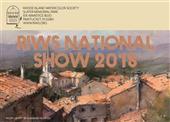 RIWS Presents the 2018 National Show
| Start Date:

6/28/2018 12:00:00 AM (PT)

| End Date:

8/3/2018 11:59:00 PM (PT)

| Fee: $25.00 USD per

1

| Additional Entries: $25.00 USD per

1

| Host:

Rhode Island Watercolor Society
RIWS Presents the 2018 National Show
Call For Entries! Over $5,000 in cash prizes!
Juror: Vladislav Yeliseyev
Submission Deadline: August 3
Drop Off/Delivery: August 17 - September 8
Winners Notified: September 13
Demo by Vlad Yeliseyev: September 15
Exhibition Dates: September 15 - November 8
Pickup/Shipping: November 9 - 24
Entry Deadline: August 3rd, 2018
Rhode Island Watercolor Society Presents: The 123rd National Watermedia Competition
$5,000 in Prizes Given! With 1st place taking home $1,500!
Watermedia Entries Only
Images - Minimum: 1, Maximum: 3
Entry Fee (RIWS members receive a $5 each entry coupon code) $25
ELIGIBILITY:
Watermedia works only (see guidelines for more details)
Open to all artists residing in the United States
Work must not have been exhibited in a previous Rhode Island Watercolor Society juried show.
Work must have been completed within the last 10 years.
Work may not be copied from copywritten material.
No work partially or wholly painted by another.
Work may have been done in a class or workshop, but only using reference material belonging to the sole artist.
Work must be the same work represented by the submitted digital images. No altered digital images may be submitted.
Artwork should be well represented by any digital image submitted.

Work must not exceed 42 inches on its longest side (not including frame).
Work must be the size represented in the submission form.
Work may be listed as NFS (not for sale).
The Rhode Island Watercolor Society is proud to support watercolor and other traditional watermedia materials and methods. With the growth of the arts industry comes the introduction of new equipment and practices. As the options for art making expand, so must the horizons of the Rhode Island Watercolor Society guidelines for our open juried shows.
Media and Mediums
Acceptable mediums: Watercolor, gouache, acrylic, acrylic mediums and watercolor mediums, ink, casein, egg tempera

- Acceptable media up to 20%: line & wash, watercolor pencils, collage (waterbased, on or of paper), charcoal, graphite, wax accents and resists, water-based monotypes and mono prints, embossing.
Unacceptable media: Pastels, colored pencil other than watercolor pencil, fabrics, digital media or digitally enhanced images, multiple edition prints, sand, glitter, gold or metal leaf, collage from printed materials, newspaper, magazines, etc., oil paints, photography, reproductions

Acceptable Surfaces: Watercolor paper, toned watercolor paper, Yupo and similar synthetic papers, paper coated with water based varnish and gesso, textured paper, gallery wrapped or stretched canvas, canvas paper, illustration board, watercolor board, rice paper, Duralar, Aquaboard, wood

Framing and Presentation:
Work must be presented in a professional manner.
No broken or damaged frames.
Framed work must be under glass unless it is over 22"x 28", in which case it must be framed with Plexiglas.
Work may be floated within the frame, or presented with a single or double mat.
White or off white mats are preferred, but liner mats less than 3/8" may be colored. Entirely colored mats are acceptable only if they are integral in the completion of the artwork.
Must be wired with no wire or hanger showing when hung. No tooth hangers.

The Rhode Island Watercolor Society reserves the right to exclude from the exhibition any works that do not arrive in sturdy condition, or are deemed too fragile to be successfully exhibited. Work that has not been suitably prepared will be hung at the discretion of the Rhode Island Watercolor Society.

Please submit only work that will be available at the time of the exhibition and will remain for its entirety. No accepted entry may be withdrawn prior to the close of the exhibition.
---