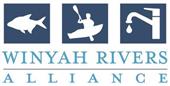 Spring into Summer - Photo Contest
| Start Date:

6/1/2023 12:00:00 AM (PT)

| End Date:

10/7/2023 11:59:00 PM (PT)

| Fee: $11.00 USD per

1

| Additional Entries: $0.00 USD per

1

| Host:

Winyah Rivers Alliance
Winyah Rivers Alliance is launching our Spring into Summer Campaign. We'll be hosting events throughout our greater Winyah Bay watershed including our annual Photography Contest.
We invite you to participate in our Photography Contest, sharing your photographs celebrating our fishable, swimmable, drinkable rivers.
Rules for Entering:
The contest is open to everyone. Emphasis in judging will be given to photographs that highlight our fishable, swimmable, drinkable water in the greater Winyah Bay watershed.

Each contestant may enter as many photographs as desired. Entry fee is $11.00 per photograph.

Entry Categories are Fishable, Swimmable, Drinkable, Georgetown County, and Youth. More information on the categories can be found at

www.winyahrivers.org

.

The photographs must be taken in North or South Carolina. Photos submitted for the Georgetown County category must be taken in Georgetown County, SC.

Each contestant agrees to allow Winyah Rivers Alliance, and its sponsors, to use their entries without compensation to promote our vision of fishable, swimmable, drinkable water for all communities. Use may include exhibition, calendar, and fundraising. All entrants will retain the right to their work.

To enter, go to

https://client.smarterentry.com/WinyahRivers

. No need to resize your image; the website will resize it to fit. Should your image win, a TIFF or PSD file at 300 PPI must be made available for printing purposes.

Winners will be contacted prior to and announced at our River Celebration fundraiser on Saturday, October 28th at the Riverside Club in Conway. All participants will receive discounted tickets and winners will receive free tickets to the event.

Winning photographs will be displayed at various locations following our River Celebration event. Winners will receive their photograph at the conclusion of the tour.

The following awards will be presented: Best of Show ($150), 1st Place in each category ($100), 2nd Place in each category, 3rd Place in each category. Winners are eligible for only one prize.

All entries must be received by midnight on October 6, 2023.

For questions, email winyahrivers@winyahrivers.org or call (843) 349-4007.
We are grateful to our contest sponsors: 803 LABS, Inc. and the Frances P. Bunnelle Foundation.
---