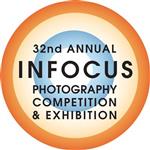 InFocus 2019
| Start Date:

12/6/2018 6:00:00 AM (PT)

| End Date:

1/28/2019 6:00:00 PM (PT)

| Fee: $35.00 USD per

2

| Additional Entries: $10.00 USD per

1

| Host:

Tuolumne County Arts
Photographs will be judged in six categories: Landscape, Color of Your Choice, Nature, Close-up, Still life/Found Objects, Human Experiences. Definitions of these categories and examples of each are available on the InFocus website at http://www.infocus-tcaa.org/categories.html.
Each category may have both color and monochrome images. Submissions of original works of photographic art may include but are not limited to classic film and digital photography.
Cash prizes and ribbons will be awarded in each category: $150 for First Place, $75 for Second Place and $50 for Third Place. Additional ribbons will be awarded for Honorable Mention and Judge's Choice. The Best of Show will receive $250 and a ribbon. The Charles Moore Excellence in Photography Award* winner will receive $250, a ribbon and a trophy. Recipients of other Sponsor Awards will receive $25 and a ribbon. A People's Choice award will be presented at the end of the show to the photograph receiving the most votes by gallery viewers. Each award may also be eligible for a merchandise prize.
The work must be completed within the last two years.
Entries are open to amateur and professional photographers ages 16 years and older.
Entry fees are not refundable.
InFocus may use all digital images submitted to this competition for media purposes only.
InFocus will request a high-resolution electronic image of the winning photographs for media purposes.
Acceptance notification will be posted on the InFocus website http://www.InFocus-tcaa.organd notices will be sent by email no later than Tuesday, February 19, 2019. Note that accepted entries will be listed by name as entered into Smarter Entry. Use unique titles and note the names of your titles for reference when viewing the acceptance notification.
For questions, email us at contests@tuolumnecountyarts.org. Or refer to the InFocus website at http://www.InFocus-tcaa.org for more detailed information.
---