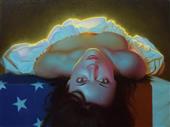 2020 Art of the Heartland National Competition
| Start Date:

11/23/2019 12:00:00 AM (PT)

| End Date:

7/15/2020 11:59:00 PM (PT)

| Fee: $45.00 USD per

1

| Additional Entries: $25.00 USD per

1

| Host:

SouthWest Artists, Inc.
As one of the nations most prestigous, juried competition of representational work, it showcases the diverse work from regional and national artists. The show's dates coincide with our greatest tourist season, generating thousands of additional residents to the area.
Judging our show will be Tim Tyler an award winning , respected member of the international art community. This exhibition is limited to original, two-dimensional paintings in oil, watercolor, pastel, acrylic, and other mediums completed in the last five years. Computer-generated art, photography, or over painted photography are not eligible. The size is restricted to 36 inches, including frame in any direction. For complete information, read our prospectus carefully.
---