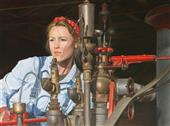 2022 Art of the Heartland National Competition
| Start Date:

5/26/2022 12:00:00 AM (PT)

| End Date:

7/22/2022 11:59:00 PM (PT)

| Fee: $45.00 USD per

1

| Additional Entries: $25.00 USD per

1

| Host:

SouthWest Artists, Inc.
Southwest Artists was founded at the end of World War II to help heal the wounds of war. Today we are still faced with challenges, but despite the current pandemic, our National competitions are continuing to flourish and sales of works have increased. The shows will be held at our Mena Arkansas Art Gallery. Located in the heart of the Ouachita Mountains and National Forest at the foot of Rich Mountain and the start of the Talimena National Scenic Byway, the area is a Plein Air painter's and photographer's paradise. Our goal remains to assemble paintings that represent the best of representative American Art and depict the things that make America great.
This exhibition is limited to original, two-dimensional painting in oil, watercolor, pastel, acrylic and other mediums completed within the last five years. Computer generated art, photography or over painted photography are not eligible. Size is limited to 38 inches in any direction, including frame. For complete information, read our prospectus carefully.
---