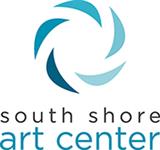 Pivot
| Start Date:

2/15/2021 12:00:00 AM (PT)

| End Date:

3/15/2021 11:59:00 PM (PT)

| Fee: $25.00 USD per

3

| Additional Entries: $10.00 USD per

1

| Host:

South Shore Art Center
Pivot—National Juried Exhibition
juried by Katherine French, Gallery Director, Catamount Arts
April 8 – May 22, 2021
Pivot (to be hung in the Bancroft Gallery at SSAC)
VIRTUAL OPENING RECEPTION: Thursday, April 8, 7PM
National Show Open to all media, original works of the Pivot theme.
ABOUT THE THEME: The word "pivot" is highly visual, immediately evoking an object mid-spin. The term became ubiquitous during 2020 as the COVID-19 pandemic stopped the world, and each of us needed to adapt the way we completed even the most mundane tasks. The concept of pivoting became more nuanced as the year progressed, and we experienced national unrest. South Shore Art Center looks forward to presenting a kinetic, emotionally-charged exhibition that captures a year in crisis with artistic response.
ENTRY DEADLINE: Monday March 15, 2021 end of day. Accepted works posted on website by end of day Tuesday, March 23.
FEES
$25 for three images. $10 for each additional image up to 6 total images.
ALL WORKS MUST BE FOR SALE. South Shore Art Center receives 40% of the purchase price. Please submit only work that will be available at the time of the exhibition and will remain for its entirety. Work must have been created within the past three years. No accepted entry may be withdrawn prior to the close of the exhibition. No pricing changes will be allowed after acceptance. Living artists only. Work that is copied or done under the guidance of an instructor is not eligible. Entries must not have been previously exhibited at SSAC or the SSAC Arts Festival. If the work does not fully reflect what is represented on the submitted image, South Shore Art Center reserves the right to eliminate it from the exhibition.
SPECIFICATIONS
Two-dimensional work must be professionally presented and firmly wired. No sawtooth hangers, no sandwich frames. 3-D work should include a sturdy pedestal.
NOTIFICATION
Accepted entries will posted on the website by end of day Tuesday, March 23, 2021.
DELIVERY / RETURN OF ACCEPTED ARTWORK
Shipping, return shipping and a handling fee for shipped work are the responsibility of the artist. (Delivery by April 2; Hand delivered work drop off: March 31–April 2, 10:00–4:00; shipped work returned by June 1, 2021.) A handling fee of $25 is required for shipped artwork.
Pick-up Work
Hand delivered works may be picked up May 26—28, 10:00 am to 4:00 pm. Artists should contact SSAC if they need to pick up works outside this established schedule.
LIABILITY
I understand that South Shore Art Center will ensure work accepted to the extent of 60% of the artist's stated value while the work is in the Art Center's custody and control.
AGREEMENT
Submission to Pivot constitutes an agreement with all conditions of this show. South Shore Art Center reserves the right to photograph or use a submitted image for an accepted work for publicity purposes. South Shore Art Center reserves the right to reject any work not resembling the submitted entry or work that is not ready to be shown according to the aforementioned specifications.
PRIZES (Due to COVID-19 there will be no cash prizes)
First Prize
Second Prize
Third Prize
---