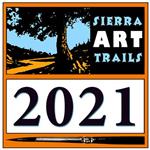 Sierra Art Trails 2021
| Start Date:

2/1/2021 12:00:00 AM (PT)

| End Date:

5/15/2021 11:59:00 PM (PT)

| Fee: $25.00 USD per

set

| Additional Entries: $0.00 USD per

set

| Host:

Sierra Art Trails
Sierra Art Trails 2020 has been postponed due to the Covid-19 pandemic.
The Call to Artists for the 18th annual Sierra Art Trails will begin Feb 1st, 2021.
We are excited to share 18 years of experience with our artists, patrons and supporters!
The cost to participate as an artist is $150 USD, $25 due when applying, and the $125 balance due upon acceptance.
The Exhibit Prosepectus is available on the Sierra Art Trails website at https://sierraarttrails.org//sierra-art-trails-prospectus/
The exhibit is the largest art event in our area, showcasing a wide range of fine art and fine craft in communities throughout Eastern Madera and Mariposa Counties.
The region encompassed by the show includes Oakhurst, Coarsegold, North Fork, Yosemite Lakes Park , and communities along Highway 49 from Ahwahnee to Mariposa. The show takes place in artist's studios, homes, art galleries, wineries, and other businesses throughout the area.
Sierra Art Trails is open to visual artists and artisans working in all media including but not limited to; painting, drawing, ceramics, sculpture, photography, printmaking, mixed media, papermaking, woodcarving, digital art, jewelry, textile arts, and art glass. Mass produced crafts, gift items, etc. will not be accepted.
Sierra Art Trails is open to both local artists and artists from outside the area. Artists with studios located in Eastern Madera and Mariposa Counties are encouraged to show in their home studios, and to share their show sites with others.
The planning committee will work with artists who do not have access to a suitable show site to help them find a location to show their work. First consideration is given to artists living within the area, but the show is open to any artist interested in participating in the event, regardless of where they live.
Artists must be Present to Participate - Artists must be present at their sites both Saturday and Sunday from 10am to 6pm. Friday is an optional day for participating artists.
Since our first exhibit in 2003, Sierra Art Trails has built a dedicated audience excited to attend year after year. In addition to visiting with the artists and purchasing works directly from the people who create them, visitors are encouraged to explore our communities, patronize our hotels and restaurants, and learn more about our area.
As an artist, there are many reasons to consider applying for the show. Participating artists are featured in the tour catalog, included in a month-long Preview Exhibit, and benefit from an extensive advertising campaign. While successful sales are important, the promotional exposure alone is well worth the cost of participation. Networking opportunities, offers to participate in other exhibits, and post show sales often result from participation in Sierra Art Trails.
Artists interested in applying can view the complete prospectus, and find general information on our website at https://sierraarttrails.org//sierra-art-trails-prospectus/
To learn more about Sierra Art Trails please contact:
Stellar Gallery, 40982 Hwy 41, Suite 1, Oakhurst CA 93644
(559) 658-8844, email: info@sierraarttrails.org
or visit us on the web at www.sierraarttrails.org
---