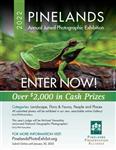 Pinelands 2022 Annual Juried Photographic Exhibition - Open Entry
| Start Date:

5/31/2020 12:00:00 AM (PT)

| End Date:

1/30/2022 11:59:00 PM (PT)

| Fee: $30.00 USD per

3

| Additional Entries: $5.00 USD per

1

| Host:

Pinelands Preservation Alliance
The Pinelands Preservation Alliance (PPA) is pleased to announce "Pinelands" 2022 Juried Photographic Exhibition. The goal of this exhibit is to celebrate the New Jersey Pinelands, our Nation's first National Reserve, with photographs that capture its natural beauty and rich cultural heritage.

We are honored to have renowned National Geographic photographer Michael Yamashita as our judge! Here is his biography – read his biography.
Over $2,000 in cash prizes will be awarded. Awards – Open (all ages): $1,000 for 1st Place Best in Show, $350 each for 1st Place Landscape, Flora & Fauna, Other categories.
All photographs submitted, whether juried into the show or not, will be displayed in a special online Pinelands Photography Gallery.
Image submissions can be black and white or color, but they must be taken within the boundaries of the New Jersey Pinelands National Reserve (see map).

This year, each image can be submitted into one of three categories of your chosing: (1) Landscape, (2) Flora and Fauna, and (3) Other (People, Towns, Architecture, Culture, History, Recreation, etc). Download the Full Prospectus for full details.
All photographs must be made within the New Jersey Pinelands National Preserve

(see map)

.
A total of 6 images can be submitted per photographer.
Black and white and color images depicting its landscape, flora, wildlife, communities and people will be accepted.
The juried exhibit will be held in the beautiful renovated barn at the PPA Headquarters in Southampton, New Jersey.
The PPA reserves the right to disqualify any image that doesn't meet the contest rules or where the subject matter was not created within the Pinelands.

Important Dates
Online Submission Opens: June 1, 2020
Online Submission Closes: January 30, 2022
Acceptance Notification: February 14 - 18, 2022
Delivery of Accepted Work:

Friday, March 18, 2022, 5-7pm
Saturday, March 19, 2022, 10-noon
Sunday, March 20, 2022, 10-noon

Exhibition Dates: March 28 to April 30, 2022
Online Gallery of All Photographs Opens: April 15, 2022
Opening Reception: Saturday, March 26, 2022, 2-4pm. Awards will be announced at the reception.
Pick-up Artwork:

Sunday, May 1, 2022, 10-noon
Tuesday, May 3, 2022, 5-7pm
Submission Details
All Files submitted should meet the following:
JPEG format
Files cannot exceed 8MB in size
At least 2000 pixels on longest side
A minimum of 180 ppi
sRGB color profile

NOTE: If you do not know how to create these specifications, don't worry, just submit your photographs.
Help us protect the unique natural area of the New Jersey Pinelands. Please donate to or join the Pinelands Preservation Alliance. LEARN MORE HERE
---