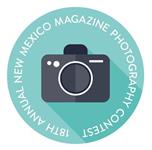 New Mexico Magazine Photography Contest 2018
| Start Date:

8/1/2018 12:01:00 AM (PT)

| End Date:

11/5/2018 11:59:00 PM (PT)

| Fee: $25.00 USD per

5

| Additional Entries: $5.00 USD per

1

| Host:

New Mexico Magazine
New Mexico Magazine is known for its stunning photography of the land and its people. Each year, we invite you to submit your favorite photos of the state.
This year's photography contest opens for entries August 1, 2018. Deadline for entries is 12 p.m. Mountain Standard Time on November 5, 2018.
Details:
Cost to enter is $25 and includes the submission of five images. Each additional image entry is $5.

Winners will be published in the February 2019 issue, available on newsstands in mid-January 2019.

New Mexico Magazine partners with the Tularosa Basin Gallery of Photography in Carrizozo to present a show featuring contest winners. Participation is voluntary.
The New Mexico Magazine Photography Contest is about presenting the beauty of New Mexico through photography. It is an amateur contest and is not open to professionals who derive more than 50% of their income from photography.
---