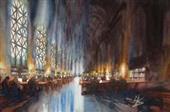 2020 North American Open Juried Exhibition
| Start Date:

1/31/2020 12:00:00 AM (PT)

| End Date:

9/1/2020 11:59:00 PM (PT)

| Fee: $30.00 USD per

1

| Additional Entries: $5.00 USD per

1

| Host:

New England Watercolor Society
Hosted by Plymouth Center for the Arts
11 North Street
Plymouth, MA 02360
PlymouthGuild.Org
November 1 - December 5, 2020
Hours: Monday - Saturday, 11am - 4pm
Sunday, 12 - 4pm
Over $10,000 in Awards
Juror of Selection and Awards - Paul Jackson, AWS, NWS, MWC
Honored by the American Watercolor Society with signature membership at the age of 30, Jackson discovered his passion for watercolor at Mississippi State University in 1985. He received a Master of Fine Arts degree in Missouri in 1992, and has since been relentless in pursuit of his creative dreams, receiving top honors in national and international competitions, contributing his art to a vast library of magazines and books and sharing his creative influence to all corners of the earth.
Workshop with Paul Jackson, October 29 - 31, 2020, 9am - 4pm
Paul will demonstrate the versatility of watercolor paint. You will learn how to work in thin layers of washes to build up luminous colors. Paul will lead you step-by-step with demonstrations of the painting process. Emphasis will be on what makes a good painting, planning the entire picture area, the importance of thinking through the composition, good division of shapes, value planning, what to communicate about the subject, and how to correct mistakes.
Important dates and times
June 24
Submission deadline (via Smarter Entry only)
August 1
Accepted artists posted
October 23
Shipped Works due
October 25
Hand delivery of accepted paintings: 12 - 4pm
October 30
Juror Demonstration 7pm
October 29-31
Workshop with Paul Jackson
November 1
Show Opens, Reception & Awards Presentation 2 - 4pm
December 5
Show Closes
December 6
Pick up paintings 12 - 4pm
Shipped work will be returned as soon after Dec. 6 as feasible
Eligibility
Open to any artist age 18 and older residing in North America..
All work must be painted with aqua media. These include watercolor, acrylic, casein, egg tempera, gouache and inks on unvarnished paper or synthetic paper such as Yupo.
No photo copies, color laser prints, multiple prints, pastels or computer generated work.
Work may not have been created in a class or workshop under a teacher's supervision.
Art may not be withdrawn early.
No changes in pricing or catalog information may be made after acceptance.
All work must be for sale.
The Screening Committee has the right to refuse any painting that does not meet the stated specifications or is not accurately represented by image submitted.
Art work exhibited in past New England Watercolor Society exhibitions is not eligible.
Full NEWS submission rules can be found here.
Entry Fees
Non-Members: $30 one entry, $35 two entries, $40 three entries
NEWS Signature and Associate Members: $20 one entry, $25 two entries, $30 three entries
Signature/Associate discount code will be sent via e-mail and must be used to receive the discount.
Please be sure your member dues are paid for 2020. Otherwise you must pay the non-member entry fee.
Entry fees will be paid by credit card at the time of entering images.
Notification of Acceptance
Accepted artists will be posted on our website by August 1.
Delivery of Accepted Work
A handling fee of $50 will be required of shipped work. Detailed shipping instructions will be provided upon acceptance to the exhibition. Shipped work must arrive by October 23.
Hand delivered artwork must be received at the Plymouth Center for the Arts on October 25, 12 - 4pm. To facilitate drop-off and return of work, a complete list of accepted artists will be posted online so that cooperative arrangements for drop-off and pick-up can independently be made.
Framing of Accepted Work
White and off-white mats only. All work must be framed under Plexiglas. Wires must be attached so that they are not visible when the work is hanging. No sawtooth hangers allowed. Mat, frame and glazing package must have a professional look and must be in "as new" condition. Work not conforming to regulations WILL NOT BE EXHIBITED! Note size limitation of 46" in any direction, based on outside measurement of frame.
Sales
A 40% commission will be retained and split between NEWS & PCA on all sales. Paintings will be sold at the price originally stated by the artists on entry. No changes will be accepted. No P.O.R., no N.F.S..
Return of Work
Work must be picked up at the Plymouth Center for the Arts on December 6, 12 - 4pm. Shipped works will be repacked and returned to the artist after December 6..
Note: It is the obligation of artists to exhibit accepted works. Failure to do so wastes the opportunity of another artist to display their work or become eligible for signature membership.
NEWS and PCA reserve the right to photograph paintings or use digital images for publicity purposes.
---