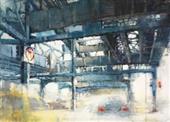 2019 New England Regional Juried Exhibition
| Start Date:

12/26/2018 12:00:00 AM (PT)

| End Date:

4/15/2019 11:59:00 PM (PT)

| Fee: $30.00 USD per

1

| Additional Entries: $5.00 USD per

1

| Host:

New England Watercolor Society
June 1, 2019—October 13, 2019
Historic New England
Governor John Langdon House
143 Pleasant St., Portsmouth, NH 03801
Over $5,000 in Awards
Juror of Selection and Awards - Antonio Masi, AWS
Eligibility
Open to any artist age 18 and older residing in New England or represented by a New England gallery.
All work must be painted with aqua media. These include watercolor, acrylic, casein, egg tempera, gouache and inks on unvarnished paper or synthetic paper such as Yupo.
No photo copies, color laser prints, multiple prints, pastels or computer generated work.
Work may not have been created in a class or workshop under a teacher's supervision.
Art may not be withdrawn early.
No changes in pricing or catalog information may be made after acceptance.
All work must be for sale.
The Screening Committee has the right to refuse any painting that does not meet the stated specifications or is not accurately represented by image submitted.
Art work exhibited in past New England Watercolor Society exhibitions is not eligible.
Note size limitation of 30" in any direction, not a fraction more, based on outside measurement of frame.
---