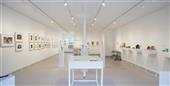 2020 Gallery Exhibition Proposals
| Start Date:

9/1/2018 12:00:00 AM (PT)

| End Date:

8/1/2019 11:59:00 PM (PT)

| Fee: $20.00 USD per

10

| Host:

Garrison Art Center
The Riverside Galleries at Garrison Art Center consist of two gallery spaces for solo and curated group exhibitions throughout the year. The Trudy and Henry Gillette Gallery is the largest of the spaces suitable for large scale exhibitions, installations, performances, and gallery talks. The adjacent Anita Hart Balter Gallery is suitable for smaller exhibitions and installations.
Artists and/or curators who wish to submit a proposal for exhibition are welcome to complete the online form. The Gallery selection committee meets once a year to review all applications for the upcoming year's gallery calendar. Open to US residents only. Artists are encouraged to visit the Art Center before applying. There is a $20 processing fee to apply.
All gallery inquiries should be addressed to Barbara Smith Gioia, Exhibitions Coordinator, at gallery@garrisonartcenter.org
---
2019 PHOTOcentric
| Start Date:

7/9/2019 12:00:00 AM (PT)

| End Date:

8/9/2019 11:59:00 PM (PT)

| Fee: $40.00 USD per

5

| Additional Entries: $10.00 USD per

1

| Host:

Garrison Art Center
PHOTOcentric is an international juried exhibition presented in The Riverside Galleries at Garrison Art Center located in Garrison, New York. It is open to amateurs & professionals in all photographic mediums.
Please note: all submissions must have unique titles. If you name your photo "untitled." please add a unique identifier and description.
This year's jurors are Robin Rice and Cali Gorevic.
Robin Rice is a fine art photographer and successful owner of Robin Rice Gallery based in New York City and Beacon, NY. Rice's film photography spans multiple continents and five decades and she has exhibited domestically and internationally. Dating back to the 1970s Rice photographed the emerging underground music scene including Patti Smith and photographed the opening night of Studio 54 where she took lustrous close-ups of Grace Jones and Andy Warhol. She later photographed her world travels through South America, Europe, and South America. Her latest exhibition features her early work on Kodachrome 25 for the first time and acts as a career retrospective that showcases the incredible range she's developed as a photographer from 1975- 2018.
Cali Gorevic, one of the founders of PHOTOcentric, is best known as a fine art black and white photographer based in the Hudson Valley, NY. Her photography portfolios include nature, architecture, pinhole and still life. She has moved into the digital world, while not forsaking medium format gelatin silver. She has had many solo and juried shows in the Hudson Valley, New York City, California and overseas. Her work appears in numerous private and corporate collections. Cali has served as a curator, juror and judge for many organizations including NYFA.
---