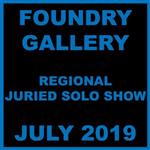 Regional Juried Solo Show July 2019
| Start Date:

2/10/2019 12:00:00 AM (PT)

| End Date:

4/15/2019 11:59:00 PM (PT)

| Fee: $45.00 USD per

set

| Additional Entries: $0.00 USD per

set

| Host:

Foundry Gallery LTD
Foundry Gallery is welcoming proposals for a guest solo exhibit for the month of July 2019. Open to painting, drawing and photography by artists 18 years and up in Washington, Maryland or Virginia.
The show will be in Gallery 1 of the Foundry's industrial-style space in the North Shaw section of downtown street-front exposure. Foundry staff will be on hand to assist artist with promotion and installation and additionally will be staff the gallery throughout the exhibition.
Offered by one of DC's premier contemporary
galleries, this exhibit provides an opportunity for artists seeking enhanced professional recognition and sales in the greater DC area and beyond.
---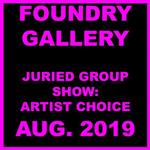 Juried Group Show: Artist's Choice Aug 2019
| Start Date:

2/10/2019 12:00:00 AM (PT)

| End Date:

6/1/2019 11:59:00 PM (PT)

| Fee: $40.00 USD per

5

| Additional Entries: $0.00 USD per

1

| Host:

Foundry Gallery LTD
This month-long show (July 31 - September 1, 2019) at the Foundry's industrial-style space in Washington, DC is open to painting, drawing, mixed media and photography by artists age 18 and up in the Washington DC, Maryland, Virginia area.
Work shoud not be more than 40" wide. You may submit up to 5 images. Art will be for sale and the gallery retains 40% commission. Work may not be removed before the end of the show.
For the prospectus, visit [url here] or the Foundry website www.foundrygallery.org
---