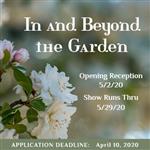 IN AND BEYOND THE GARDEN 2020
| Start Date:

2/10/2020 12:00:00 AM (PT)

| End Date:

4/10/2020 11:59:00 PM (PT)

| Fee: $20.00 USD per

1

| Additional Entries: $20.00 USD per

1

| Host:

Elk Grove Fine Arts Center
SHOW DESCRIPTION – Is nature your artistic muse? Landscapes showing the beauty of our world, both cultivated and wild are the focus of this show. All Categories of media are accepted.
Entry Fee - $15 –member fee and $20.00 – non-member fee per entry per piece (non-refundable) – limit 3 entries per artist.
CONDITIONS OF ENTRY - All artwork must be original fine art quality conceived and created solely by the entering artist. The majority of materials used in piece will determine the category. Artwork previously accepted into the EGFAC Open Fine Art Competition will not be accepted. EGFAC has the right to reject artwork that does not look like the digital image. All artwork must be framed and ready to hang, and no larger than 36"x36" including the frame. Unframed oils/acrylics accepted only if the painting extends around edges (gallery wrap.) All art must be for sale. The Elk Grove Fine Arts Center will handle all sales from the exhibition and retain a 40% commission from all sales.
JUDGE– Teresa Steinbach Garcia is a native Californian and Design graduate of The University of California at Davis, she works in a painterly realistic style. Inspired by many many artists, she combines her background in watercolor with pastels to capture the nuance of light and place, and interpret impressions of the man- made and nature-made worlds. Theresa worked in both The Graphic Design and Fine Art realm before devoting much of her energy to raising a family on 5 acres in the rural countryside of Wilton, California. With the kids raised she is devoting more time to teaching and exploring all things art. TSteinbachGarciaART.com .
Awards
Best of Show - $100.00; First Place - $75; Second Place - $50
IMPORTANT DATES
April 10 – Application Deadline
April 18 – Acceptance Notification – via email
April 25 & 26 - Receiving of Accepted Artwork 11-4pm, at the Elk Grove Fine Arts Center, 9683 Elk Grove Florin Road; Elk Grove 95624. Also bring your signed liability form upon delivery.
May 2nd , Saturday 4-7pm Artist Reception – Category Award Winners will be announced and presented at the Reception on May 2nd at 5:30 All participants and guests (family and friends) are encouraged to attend.
Show runs from May 2nd through May 29 The exhibition is Free to the public.
The Elk Grove Fine Arts Center is open from 11 – 4pm, Wednesday through Saturday..
May 30 & 31 - Pick- up art work –from 11-4pm. All artwork must be picked up or a $5.00 holding fee will be charged per piece per day.
EGFAC will not be responsible for any lost or damaged art submitted to their Open Fine Art Competition. If there are too few applicants for a category, then EGFAC has the right to cancel the category and refund all entry fees.
Registration Agreement: I have read and agree to abide by the above instructions. I release the Elk Grove Fine Arts Center from all responsibility for damage, loss, or injury during the show.
---