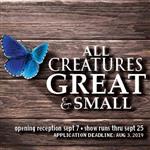 ALL CREATURES GREAT AND SMALL
| Start Date:

6/1/2019 12:00:00 AM (PT)

| End Date:

8/3/2019 11:59:00 PM (PT)

| Fee: $20.00 USD per

1

| Additional Entries: $20.00 USD per

1

| Host:

Elk Grove Fine Arts Center
Reception- September 7, 2019 -Show continues through September 25th
CONDITIONS OF ENTRY:
All artwork must be original fine art quality conceived and created solely by the entering artist.
Artwork previously accepted into any EGFAC Competitions will not be accepted.
EGFAC has the right to reject artwork that does not look like the digital image.
All artwork must be framed and ready to hang, and no larger than 24"x36" including the frame. Unframed oils/acrylics accepted only if the painting extends around edges. Artists are responsible for all shipping costs. Including the return shipping paid shipping label.
All art must be for sale.
The Elk Grove Fine Arts Center will handle all sales from the exhibition and retain a 40% commission from all sales.
SHOW DESCRIPTION - "All Creatures Great and Small" – This show is all about the critters we share our lives with… in the wild, and as our companions and family members. Animals touch our lives in so many ways, and remind us in caring for them what it is to be human.
JUDGE–Andrea Morris - In her decades-spanning practice, Andrea Morris has explored wildlife and the human form through different materials and mediums. Self-taught, Andrea began painting as a means of dealing with the complexities of life in an everchanging social atmosphere. In her early work she created drawings of horses and familiar animals and later studied portrait works. Andrea later experimented with abstraction and assemblage in an attempt to free herself from the traditional genre. She returned to making paintings and watercolors in 2000. Andrea has developed the use of strong patterns and colors to represent the subjects in her compositions and uses the diverse objects to represent thoughts and emotions to tell the story behind the painting
Andrea has been teaching advanced levels of painting in watercolor, oils, acrylic and drawing for more than ten years. Her work has been displayed and exhibited in many art venues in California and Arizona.
Andrea's greatest joy has been in sharing her knowledge and love of art with fellow artists and documenting her journey of discovery and fascination in artistic expression.
Andrea has been commissioned to paint many murals and individual paintings for clients across the United States. www.andreamorrisart.com
CATEGORIES - all mediums are accepted.
AWARDS - RIBBONS AND MONETARY AWARDS:
Best of Show- $100; 1st Place - $75; 2nd Place - $50; People's Choice – ribbon
ENTRY FEE - $15 member fee/ or $20 non-member fee per entry per piece (non-refundable) – limit 3 entries per artist. To enter go to www.elkgrovefineartscenter.org and click on call to artists.
IMPORTANT DATES
Exhibition Date – September 7- September 25
Application Deadline – August 3
Acceptance Notification – August 17 via email
Receiving Accepted works at EGFAC – August 22,23,24, 9683 Elk Grove-Florin Road, Elk Grove, CA 95624
Artist Reception – September 7, 4-7pm
Award Winners Announced – Reception night, September 7 at 5:30pm
Pick Up Art Works – September 26,27,28
---