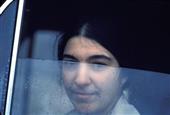 The Human Portrait: Online Juried Exhibition
| Start Date:

10/23/2020 12:00:00 AM (PT)

| End Date:

11/29/2020 11:59:00 PM (PT)

| Fee: $35.00 USD per

3

| Additional Entries: $5.00 USD per

1

| Host:

Dallas Center For Photography
In its truest form, portraiture is about human connection. A portrait tells a lot about a person. Their emotion. Their grit. Their story. There is no other genre of photography that displays human vulnerability in its rawest form.
Dallas Center for Photography invites you to enter this juried competition with photographs that illustrate this human connection. They can be self-portraits or portraits of others; posed or candid; studio or environmental; camera original or digital composite.
Selections will be featured in a virtual exhibition on the DCP website. We are also planning to have an exhibition catalog in book form that will be available for purchase.
DCP will host a virtual opening reception on Friday, December 11 that is free and open to the public. Juror Jennifer Spelman will be in attendance to discuss the winning entries. Prizes will be awarded to the first, second and third winners.
This competition is not open to DCP employees, instructors, board members, corporate sponsors and partner companies, or their immediate families.
IMPORTANT DATES
October 23 – Call for entry opens
November 29 – Online submission deadline
Week of December 7 – Selections and winners announced
December 11 – Online Opening Reception
TBD – Online Exhibition on the DCP Website

SUBMISSION RULES AND DETAILS
Everyone of all ages, from amateur and professional, are eligible to participate in this call for entry.
All images will be submitted through Smarter Entry.
Our judge will be looking for images that reveal something about the subject, the photographer or both.
Each applicant may submit up to 10 images for consideration.
There are no restrictions on the type of camera or process used.
All images must be original works of the photographer.
ENTRY FEES
General Entry: $35 initial entry fee for 1-3 images. Up to 7 additional images can be submitted for $5 per image.
DCP members receive a 20% discount on the initial entry fee with promo code: $28.80 for 1-3 images. Up to 7 additional images can be submitted for $5 per image. Not a DCP member? Join now!
FILE PREPARATION
Files must be 1200 pixels on the longest dimension and saved as a JPEG in the sRGB color space. Maximum file size is 8MB. If this is your first time submitting to a competition and you have questions, contact us through the DCP website.
For each image include title and any special process used (Gelatin Silver, Platinum/Palladium Print, etc.)
SELECTION PROCESS
Our juror for this competition is Jennifer Spelman. All entrants will receive an email by December 8 to inform them of the selections for the show.
CASH PRIZES (Sponsored by Competitive Cameras)
First place: $500
Second place: $350
Third place: $150
COPYRIGHT, LIABILITY AND AGREEMENT
Each photographer retains copyright to his or her images. Photographers whose submissions are chosen for the exhibition grant Dallas Center for Photography (DCP) the right to display the images on DCP's website and social media platforms as well as to promote DCP's exhibitions, programs, and in promotional and fundraising materials. Photographer grants DCP the non-exclusive right to reproduce any photo(s) chosen for the exhibition in a printed catalog in book form that will be available for sale through an online publisher. All proceeds from the book will benefit DCP's educational programming. Application and payment to this competition will constitute an agreement to all these terms and conditions. Artists grant the use of their image(s) as stated without further contact from DCP.
JUROR
Jennifer Spelman is a freelance editorial and documentary photographer based out of Santa Fe, New Mexico. She is a fluid traveler and is equally at home in rural villages and cosmopolitan cities.
A sensitive photographer of people, she strives to create images with energy and insight. Her clients have included Village Science, Seven Squared Media, The Heart Gallery, What Moves You, Sanjhi, and Sustainable Santa Fe.
Jennifer is a patient educator who has co-instructed with National Geographic Expeditions and taught workshops in Santa Fe, India, Mexico, and Cuba. She is thrilled to lead passionate photographers on ridiculously fun adventures around the world with the Santa Fe Photographic Workshops.
---