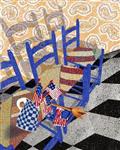 PIXELS (National Association of Digital Artists NADA
| Start Date:

8/3/2023 12:00:00 AM (PT)

| End Date:

10/13/2023 11:59:00 PM (PT)

| Fee: $25.00 USD per

1

| Additional Entries: $25.00 USD per

1

| Host:

Cape Cod Art Center
Cape Cod Art Center and Cape Cod Museum of Art are seeking entries for "PIXELS" a Digital Art Exhibition which will be held at the Cape Cod Museum of Art in Dennis, MA.
Exhibition Dates: November 22, 2023 - February 11, 2024
Entry Deadline: Friday, October 13 at midnight
Digital Art is an artistic work or practice that uses digital technology as an essential part of the creative process. This includes the use of computers, mobile phones or portable handheld devices in conjunction with a variety of apps. Digital art can take many forms - "paintings" made entirely of pixels, collage, original photography, animation and video.
Artists of all levels are invited to submit up to five works of digital art to be juried into PIXELS, the first exhibition devoted exclusively to Digital Art at the Cape Cod Museum of Art (CCMoA). Subject matter is open to the discretion of the artist. The curators are looking for work that is creative and demonstrates the wide range of possibilities in the creation of Digital Art. PIXELS will also be shown on the Cape Cod Museum of Art website.
AWARDS: Three works will be selected by the Juror to receive monetary awards of: $300, $200 and $100 at the reception. Other prizes may be given at the discretion of the Curators.
SALE OF ART: Artwork selected for the exhibition can be made available to the public for sale, with 60% of the proceeds going directly to the artist, and 40% to the CCMoA. The Museum provides this option in an effort to help support artists during demanding times, while also supporting the Museum.
IMPORTANT DATES:
Exhibition Dates: November 22, 2023 - February 11, 2024
Deadline to enter: Friday, October 13
Notification: Friday, October 27
Drop off at CCMoA: Friday, November 17 from 2:00-4:00 pm
If shipped to CCMoA: Received by November 17
Gallery Talk/Award: Thursday, December 7 from 4:00-5:00 pm
Reception at: Thursday, December 7 from 5:00-6:30 pm
Pick up artwork: Monday, February 12 from 9:00–11:00 am and 2:00 pm-4:00 pm
SUBMISSIONS AND FEES:
Entries are due: Friday, October 13, 2023 through Smarter Entry https://client.smarterentry.com/capecodart
The fee to enter is $25.00 for one (1) entry. Up to five (5) artworks may be entered per artist. Entry fees are non-refundable.
SPECIFICATIONS FOR SUBMITTED ARTWORK
Any theme is accepted. Please include a bio and the process by which your work was created. You may submit up to five works, but only two works can be accepted per artist. Video entries under five minutes in length will also be considered for PIXELS. At this time, we are not accepting AI generated art until regulations can be defined. Maximum size for 2D art is 40" x 40" (including frame).
IF YOUR ENTRY IS ACCEPTED:
All artwork must be suitably framed to a professional standard, unless a gallery wrapped canvas is used. If needed, we highly recommend Plexiglas (no glass) for framed works due to high breakage rates during shipping, unless you deliver and pick-up your art at the museum personally. 2D work must be securely wired and ready to hang.
A label or card must be securely affixed to the back of artwork that indicates:
ARTIST'S NAME, TITLE, MEDIUM, DATE CREATED, and INSURANCE VALUE. We will use this information (without the value) for our wall labels, so please be sure it is correct and legible.
*Works that DO NOT adhere to these guidelines will not be exhibited.
*Work cannot be withdrawn before the end of the exhibition.
DELIVERY INSTRUCTIONS FOR ACCEPTED ARTWORK:
Artwork drop-off will be on Friday, November 17 from 2:00-4:00 PM or may be hand delivered during CCMoA open hours if necessary: Wednesday-Saturday from 10am-4pm, Sunday from 12-4pm.
Shipped artwork must be received by November 17th at the latest. Artwork must be packed in REUSABLE containers with PRE-PAID return shipping label enclosed. Please DO NOT use Styrofoam popcorn/peanuts for packing. Artists are responsible to pay for the delivery and return shipping of their work.
For UPS and FedEx Mail to:
Cape Cod Museum of Art
Attn: Exhibitions
60 Hope Lane
Dennis, MA 02638
For USPS Mail to:
Cape Cod Museum of Art
Attn: Exhibitions
P. O. Box 2034
Dennis, MA 02638
Juror: Nicki Fitz-Gerald
About naDA
The National Association of Digital Artists (naDA) serves digital artists and the digital art community by providing resources for exhibition, networking and education. naDA is dedicated to promoting digital art as a valid fine art medium. Our membership is inclusive of all Fine Artwork that contains pixels – done with cameras, mobile devices, computers and video – and manipulated with software or apps. The National Association of Digital Artists is a 501C3 non-profit membership organization under the auspices of the Cape Cod Art Center. Cape Cod Art Center, incorporated in 1948, is located at 3480 Route 6A, Barnstable, MA 02630.
CONTACT INFORMATION: curator@capecodartcenter.org or info@nationaldigitalartists.org, 508-362-2909
Smarter Entry Image Icon by Barbara Braman, "Tipping Point", Digital Art
---