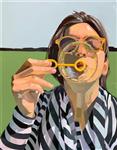 The National 2022
| Start Date:

5/2/2022 12:00:00 AM (PT)

| End Date:

6/12/2022 11:59:00 PM (PT)

| Fee: $30.00 USD per

1

| Additional Entries: $30.00 USD per

1

| Host:

Cape Cod Art Center
Open to all artists in all media. Cape Cod Art Center seeks submissions for The National 2022. This annual open juried exhibit embraces talent from across the United States and is always one of CCAC's biggest and most prestigious exhibits of the year. Any subject matter will be considered. Jurors take special consideration of the pieces that fit the theme for Best American Landscape. Cash awards given.
Members must enter CCAC in the discount code box, then click apply for member discount. *Membership status will be verified*.
Entries must be of original work, they cannot be a copy of another painting; a magazine or newspaper photo, or any type of reproduction; the entry must be the artist's own composition. No crafts or commercial prints may be accepted.
We can't accept work that is larger than 45" x 48".
Entries due by Monday, June 12, 2022 by midnight.
Erin Carey, Abby Lammers and Deborah Quinn Munson are this exhibit's jurors. See our website for bio information. There is no personal feedback given by jurors.
Go to our website for the exhibit prospectus.
Artist notification by email and posted on our website on June 24th. All those who submitted jpegs will be emailed. Please check your promotional/junk email in case the results aren't in your inbox. If you do not receive an email by June 24th, contact manager@capecodartcenter.org.
The jury may accept a maximum of two works from any one artist. Payment is non-refundable and does not guarantee acceptance.
The National Exhibit is on display at CCAC from July 11 - August 13, 2022.
Exhibit icon by Lori Mehta, "Bubble Stuff", Acrylic
---