BWAC Competitions / Calls for Entry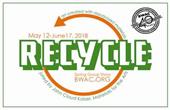 Recycle 2018
| Start Date:

1/1/2018 12:00:00 AM (PT)

| End Date:

1/23/2018 11:59:00 PM (PT)

| Fee: $45.00 USD per

3

| Additional Entries: $5.00 USD per

1

| Host:

BWAC
Recycle 2018, the Brooklyn Waterfront Artists Coalition's national juried show of art crafted from cast‐off, discarded, and re‐ purposed materials, will be a celebration of ingenuity and imagination. BWAC's curator for Re-cycle 2018 is once again Renee Radenberg. We are seeking to exhibit sophisticated two‐ and three‐ dimensional art created in the re‐use genre. To help us in this quest, we are once again greatly honored to have our juror, from Materials for the Arts. This year it is the Director of Education, John Cloud Kaiser.
Recycle: BWAC is seeking original artwork from artists working in repurposed materials. Entries must incorporate at least 50 percent of repurposed, recycled, or reused materials. The theme is open to any medium resulting in2‐Dimensional or 3‐Dimensional work.
As well as looking for skill in the use of material, we want to see art that demonstrates the importance of conserving our limited natural resources. We look for how well the medium relates to the upcycling movement and how fully the artist's intention or concept is presented and realized. The juror's awards will reflect that artistic judgment.
$3000 in Cash Awards
Submission Deadline: Early Bird January 23 or Final Application Deadline February 20, 2018.
Gallery Exhibition Dates: Saturday, May 12 – Sunday, June 17, 2018 weekends 1‐6 P.M.
---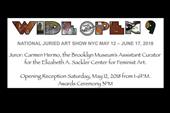 Wide Open 9
| Start Date:

1/1/2018 12:00:00 AM (PT)

| End Date:

2/16/2018 11:59:00 PM (PT)

| Fee: $65.00 USD per

3

| Additional Entries: $5.00 USD per

1

| Host:

BWAC
WIDE OPEN 9: The broad theme of "Wide Open 9" encompasses all the possibilities of knowledge and freedom and love ‐ wide open spaces…arms wide open…eyes wide open ‐ but as with all things, there is the inevitable opposite ‐ wide open to attack…corruption…failure. What kind of fantasy is this? What does it really indicate? This juried show looks to explore the idea of "wide open" in all the hidden niches of our collective psyche.
Ours is a truly unique gallery – a massive Civil War‐era warehouse on the Red Hook waterfront in Brooklyn, NY. Its enormous space affords us the opportunity to exhibit large work, and we welcome it. BWAC's curators for Wide Open 9, Anatole Iwanczuk and Therese Urban will be using 8,000 square feet for this show, and look forward to exhibiting artist's work from all around the country, work in all sizes, and subjects, and media.
Submission Deadline: Early Bird January 19 or Application Deadline February 16, 2018.
Gallery Exhibition Dates: Saturday May 12 – Sunday June 17, 2018, weekends 1‐6P.M.
---