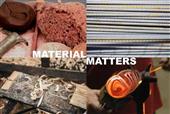 Material Matters: Breaking with Tradition
| Start Date:

4/20/2018 12:00:00 AM (PT)

| End Date:

6/28/2018 11:59:00 PM (PT)

| Fee: $35.00 USD per

5

| Additional Entries: $5.00 USD per

1

| Host:

BWAC
As an expression of culture, art is often unconventional and rebellious; experimental and insightful. Yet, art by necessity relies upon familiar traditions to achieve its unconventional ends. This is why the better we know our traditions, the more cleverly we can break them.
The annual exhibition, Material Matters, asks artists who work in a variety of traditional materials -- clay, glass, wood, metal or fiber/textile -- to consider the traditions underpinning their work and the rules and conventions they break in method or material. Artists are invited to submit original works that change traditional "ways of seeing" by demonstrating a break with the past or suggesting a new way forward, whether toward logical or illogical conclusions.
Melissa Stern is an artist and journalist. Her drawing and sculpture have been exhibited in museums, galleries, private and corporate collections throughout the world. Stern uses a wide range of materials including encaustic, clay, pastel, and steel. Her sculptural work includes found objects, souvenirs, vintage magazines and books as well as fabricated images and sculpture. Her art reviews and cultural commentary have been featured in Hyperallergic, a Brooklyn-based digital arts publication, and she serves as Art Editor for Posit, a journal of literature and art.
$450 in cash awards, including $250 GOLD prize.
---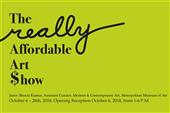 really Affordable Art $how
| Start Date:

5/13/2018 12:00:00 AM (PT)

| End Date:

7/12/2018 11:59:00 PM (PT)

| Fee: $65.00 USD per

5

| Additional Entries: $5.00 USD per

1

| Host:

BWAC
BWAC's fourth national juried 'really Affordable Art Show,' with selections made by Brinda Kumar, Assistant Curator in Modern and Contemporary Art, Metropolitan Museum of Art here in NYC.
This is a selling show with art priced for anyone and everyone. All work submitted must be for sale at $499 or less. You will get 70% of the selling price.
$2050 in Cash Awards and Purchase Prizes.
---