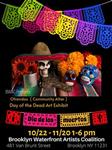 OFRENDAS, Day of The Dead
| Start Date:

9/22/2022 8:00:00 PM (PT)

| End Date:

10/4/2022 11:59:00 PM (PT)

| Fee: $35.00 USD per

3

| Additional Entries: $5.00 USD per

1

| Host:

BWAC
Ofrendas! Day of the Dead Art Exhibit and Altar
We are excited to announce that our art exhibit and altar installation entitled Ofrendas, Day of the Dead, will be opening on October 22, 2022.
BWAC welcomes member artists Tamavis D. Santiago as curator and Lissett Clark-Dziedzik as co-curator of design and altar installation. With their guidance and selections, we look forward to a fantastic show.
The art show will celebrate the Mexican tradition Día de Los Muertos, a holiday which is celebrated on November 1 & 2nd to commemorate the dead.
In theme with traditions, a community altar will be installed thus is the title of our show "Ofrendas."
The local community is invited to place an offering on one of the tiers aka as steps, which in a three-tier altar symbolize heaven, earth and the underworld.
Art work can be of any media, prints and artisanal but must be the artist's original work. While the traditional art in theme with Dia de Los Muertos include cut paper, papier Mache skulls, calacas (skeletons), calaveritas (skulls) made from sugar or clay, artist are open to submit any form of original piece in theme with Mexican traditions.
This call is open to all artists. The artwork must be suitable for hanging, displaying on an altar or pedestal, and be labeled. If the artwork includes an altar installation, please contact BWAC and the curator to discuss. While the altar and offerings are in honor of the departed, we want to ask artists to keep the idea colorful, festive and in celebration.
---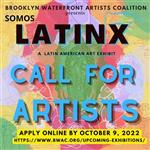 Somos LATINX
| Start Date:

9/22/2022 8:00:00 PM (PT)

| End Date:

10/9/2022 11:59:00 PM (PT)

| Fee: $35.00 USD per

3

| Additional Entries: $5.00 USD per

1

| Host:

BWAC
We are excited to announce our very first LATINX show!
Somos, LATINX: A Latin American Experience will be a national juried show opening on October 29th, 2022. BWAC welcomes Natalia Viera Salgado, Associate Curator @natlacademy as show juror and fellow Artist and Board Member Tamavis D. Santiago as curator.
Beyond the celebrations of Hispanic Heritage month, our 25k square foot gallery space will open to a celebration of LATINX ART.
We invite visual artists to submit works in any form or medium created by a Latinx/o/a artist or be a depiction of Latinx culture by non/Latinx artist. Within the theme, Somos Latinx, A Latin American Experience, we explore the rich history, culture, and diversity of Latin Americans in the US. Open to any interpretation of Latinx Art, this huge exhibit space creates a platform to be heard, be seen, inspire, connect, engage, heal, and make a difference through your art.
Don't wait to tell your story.
Illuminate the creativity behind your work and amplify your voice through your art. Join us and submit to Somos Latinx.
---