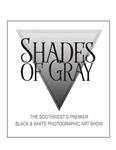 2022 Shades of Gray
| Start Date:

8/14/2022 12:00:00 AM (PT)

| End Date:

9/30/2022 11:59:00 PM (PT)

| Fee: $20.00 USD per

1

| Additional Entries: $20.00 USD per

1

| Host:

ANMPAS
Shades of Gray is a Black and White Fine Art photography show for all artists who are a current resident of New Mexico.
The show is juried by prominent professional photographers. The entrants' works are displayed in the Fine Arts building at Expo New Mexico in Albuquerque during the month of December.
Note: Please submit only pure black and white images. No sepia, selenium, or other toned images will be accepted.
---